Hey there, fabulous trendsetters! 😍
I've got something exciting to share with you—2024's hottest wedding trends and fashion-forward ideas. As your go-to event entertainer and style enthusiast, I'm here to make sure your big day and your wardrobe are nothing short of spectacular.
Micro Weddings and Elopements:
First up, let's talk weddings. Picture this: an intimate gathering or a romantic elopement. These smaller, heartfelt celebrations are all the rage. Micro weddings, with fewer than 50 guests, allow couples to focus on their nearest and dearest, creating meaningful moments with less stress. Some even combine elopements with a larger reception for the best of both worlds. It's a trend that's gaining popularity, and I've had the pleasure of entertaining at many of these special events.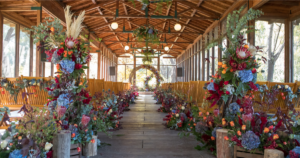 Nontraditional Venues:
Forget the typical wedding venues. I've had a blast entertaining at unique locations, from art galleries to rustic warehouses and cozy private homes. Nontraditional venues open up a world of creativity and personalization. So, if you're thinking about where to host your event, consider these unconventional spaces to bring the party to life!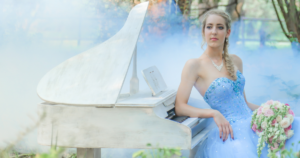 Statement Bridal Attire:
Now, let's talk fashion. Bold is beautiful, and that's a trend I've seen in bridal fashion. Couples are embracing colorful wedding dresses, custom-designed suits, and even outfit changes before the reception. The runway buzzes with words like "playful," "daring," and "dramatic." Wedding dress separates, like gloves, neck scarves, and detachable sleeves, are all the rage. As your entertainer, I'm here to ensure your entertainment matches your stylish and unique attire.
Weekend-Long Celebrations:
What could be better than one day of celebration? Well, how about a whole weekend? I've had the pleasure of entertaining at weekend-long affairs in private country cottages and stunning estates. It's a commitment, for sure, but it allows for more quality time with your guests. If you're planning a weekend-long celebration, count on me to keep the energy high and the entertainment unforgettable.
Now, switching gears a bit, let's dive into some fabulous fashion trends from the
London Fashion Week show. Consider these your style inspo for the upcoming season:
Let's Go Sheer
:
Sheer dresses are all the rage, and this fashion style has also made its way into bridal fashion. I have seen many beautiful sheer dresses, especially custom-made dresses created by a designer. I don't know if I would personally want to wear a sheer wedding dress, but if you are confident to pull it off, go for it! Some dresses look stunning and absolutely beautiful and others, well not so much. I think this trend could be a cool trend if done tastefully, but that is just my opinion.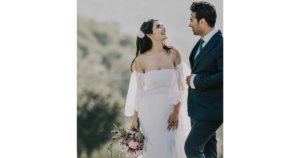 It's All About the Cuffs:
Next season is all about statement cuffs. The bigger, the better! And if you can contrast them with a super cinched section over the wrist, you'll be nailing the trend. It's the perfect style as we move into full-sleeve-season, and it's an ideal wedding dress silhouette for winter brides. Along with state cuffs, detachable sleeves are also the rage as well. I love this idea, especially as we head into the winter and fall season. The bride can "stay warm" in her cuffs and detach them when the party starts to heat up!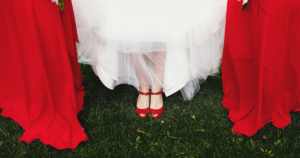 Code Red:
Red is the shade of the season. so, if you love getting multiple seasons out of your wardrobe, you're in luck! I have a special attachment to this trend because red is my favorite color! As a young bride, I tried to convince my mom to let me wear a red wedding dress. I actually ended up wearing my mom's wedding dress (which goes with the vintage trend as well) and she purchased an Asian dress in red as my going-away dress.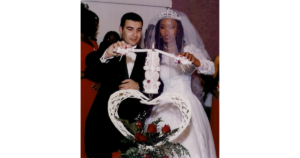 Vintage Glamour Bridal:
Many designers are featuring the dropped-waist bridal style, and it's absolutely swoon-worthy. Vintage is definitely in this season, so go ahead and search for the style of dress you connect with. Yes, all of these ideas are based on the current trends, but even 23 years later, my mom's wedding dress fits the trend. The most important thing to remember about the wedding dress is how it makes you feel. I swore that I was going to wear a simple satin A-line dress, but then I tried on my mom's dress and I was dragging my feet to try it on, I did not think it would be the dress for me, not in a million years! When I put on my mom's dress, it was an instant affirmation that it was THE ONE. I encourage you to be open and try on different styles, you will never know which style may speak to you. 
Adios Brows:
The bleached brow trend is making a bold comeback for spring. It's all about a natural look with minimal brow definition and glossy skin. You can sneak in a touch of lip balm if you must. But this is definitely a trend I will NOT be following. I just don't get it, I personally don't like this look and I don't understand why this is all the rage, but to each his or her own. I will proudly continue to darken my eyebrows!
Deep Hue Floral Chic:
Finally, we have moody blooms. Forget typical spring florals; this trend is all about blacks, deep greens, bold burgundies, and maybe the occasional white for contrast. It's a grown-up take on florals, and it's absolutely chic. I love this idea of floral. Not only are colored florals on trend, but florals in general. There is something magical about florals, and I can totally get behind this 2024 trend
So, there you have it, trendsetters! Whether you're planning your dream wedding, hitting the party scene, or revamping your style, these trends are sure to dazzle. Which of these trends do you think you will embrace? Tell me in the comments below.
Warmly,
Deanna the Entertainer and Style Enthusiast 🌟👗💄