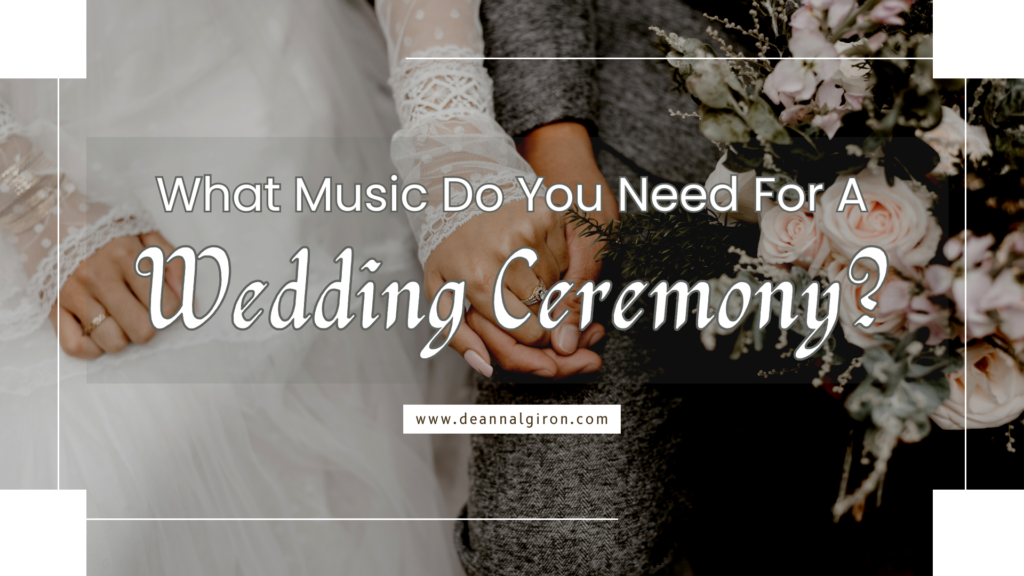 Planning for a wedding can be super stressful and I am sure if you are planning a wedding you can relate! There are so many details to think about that it can be overwhelming, especially, if you are like most people, it is your first time planning planning a wedding.
As a musician, I love performing at weddings and today I am going to share some practical ideas and tips to help you plan the music for your wedding ceremony. 🙂
Prelude Music
When you are busy getting ready to walk down the aisle, your guests begin to arrive. They will mingle with long-lost friends and relatives while choosing a prime seat for the festivities. If your guests don't know a lot of people, it can be a bit awkward, and no one likes awkward silence. Can you imagine coming into a new space not knowing a lot of people and it is dead silent or you have the privilege of listening in on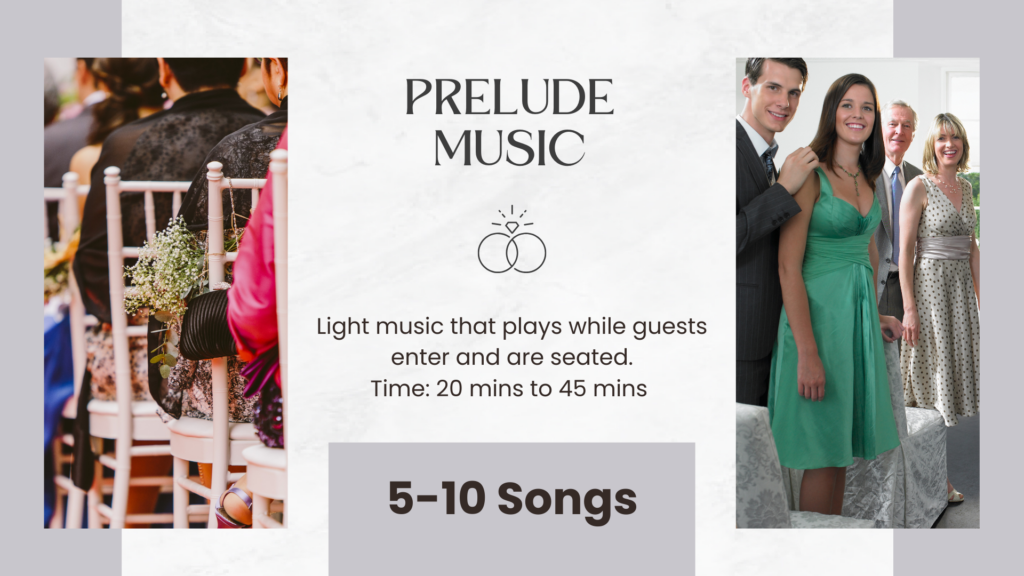 conversations you wish you never heard? Well here is where your choice of prelude music can set the tone for your day. Instead of awkward silence as your wedding vibe, you can choose a romantic or sentimental vibe to greet your guests. You will typically need to choose between 5 -10 songs to fill a time frame ranging from 20 minutes to 45 minutes.
Processional Music
The procession begins when the family begins the walk down the aisle. This can look different for everyone so the number of songs you choose can vary between 2 – 4 songs. You have the option of choosing a song for each group that walks down the aisle or keep it super simple and choose one song for all of the group and one song for the bride. You also have a chance to make this part of your ceremony unique.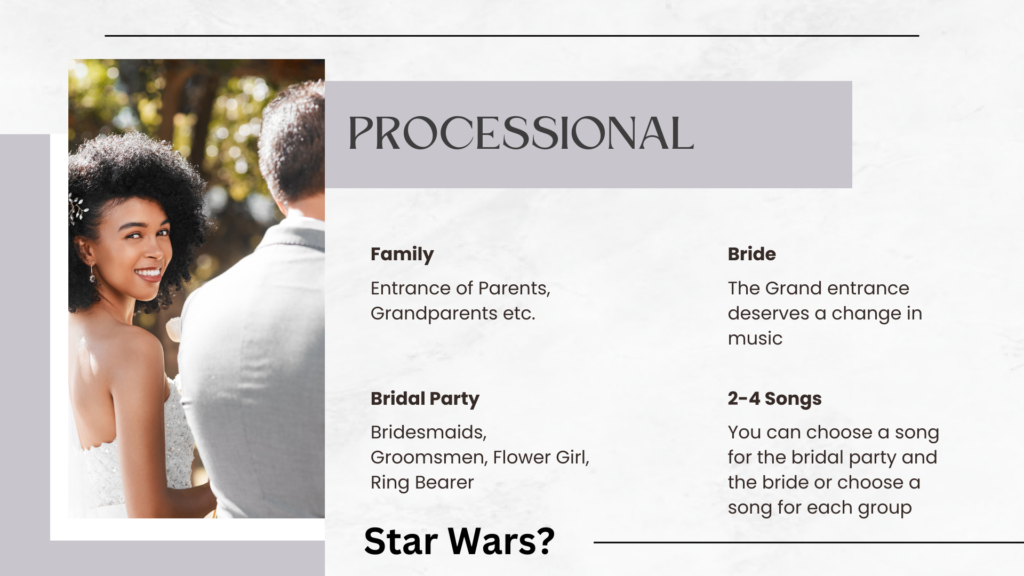 Long, long ago in a time far, far away, my husband, who is a Star Wars fanatic asked if he could walk down the aisle to the Star Wars theme. I being the musician, carefully chose the music at my wedding. My childhood piano teacher (she played the piano and sang for my wedding ceremony) also helped me with music selections because, like most of you, it was my first time planning a wedding. Even as a musician, I had questions and I relied on the advice of my piano teacher to guide me through the process because she had performed at weddings numerous times. We also did not have the luxury of the internet to do research by reading blogs or going on YouTube 🤪 So what does this mean for you? You can use this time in the ceremony to personalize it to your taste and personality.
Unity Ceremony or Special Music
The Unity Ceremony is an option that many couples choose to participate in during their ceremony. Some ceremonies include candles. I lit a unity candle at my wedding and it is now tucked away in my closet 🥰, but I had it on display for a while as a young bride and on occasion, I bring it out to renew that special memory. You can also use sand, plants, and even beer or wine to symbolize the two of you becoming one.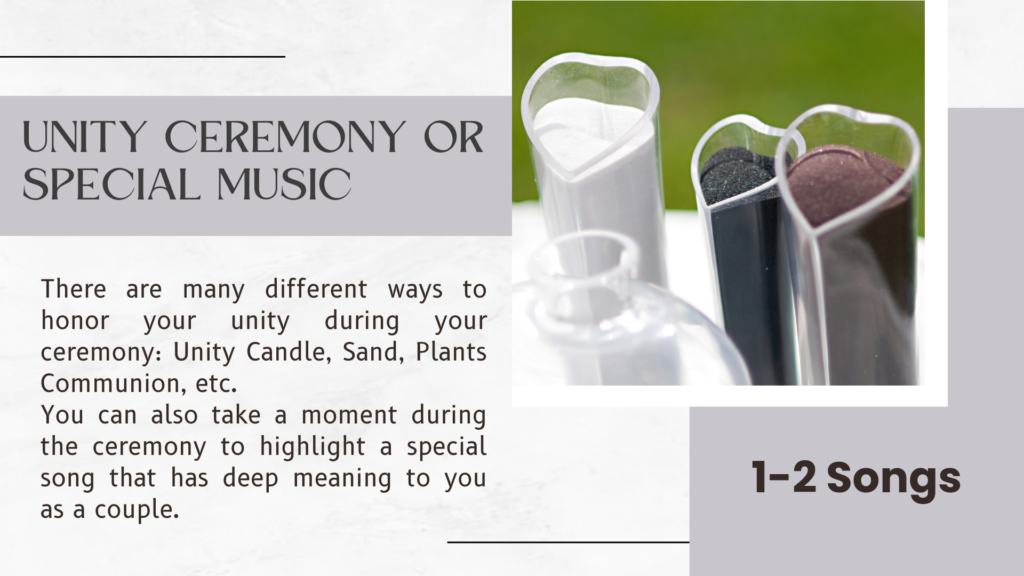 During this time, you can choose a special song that plays while during the unity ceremony, just remember that this is typically a short ceremony. You can choose something that will play only during this time and end when you are finished or you can have the music continue and the two of you can listen until the song is finished. If you choose not to do a unity ceremony, you can have a musician play or sing a special song that is meaningful to both of you. Or you can do both options! Choose a song for the unity ceremony and choose another song to highlight your love as a couple or as two families become one.
Recessional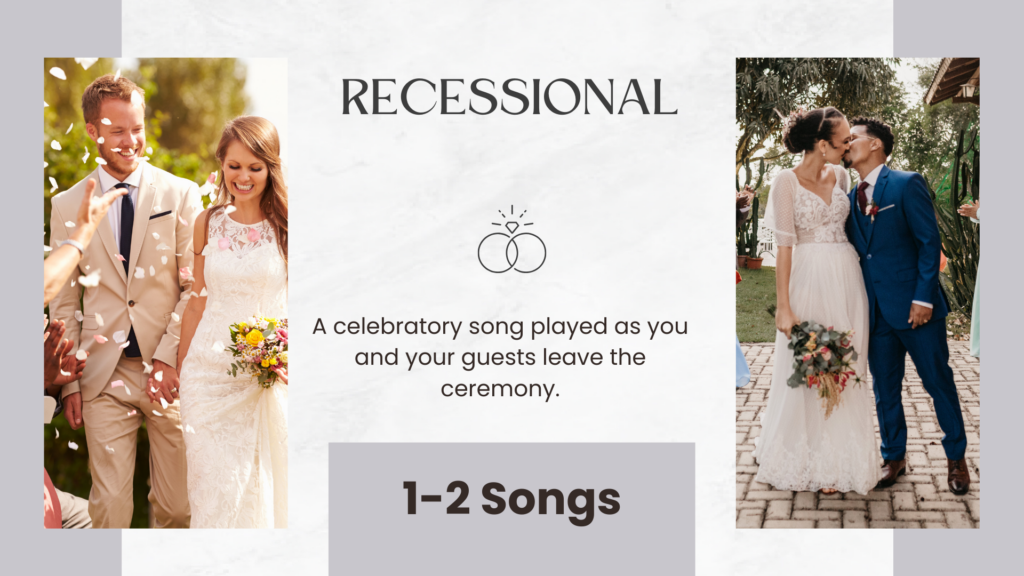 Okay, let's bring this home, literally! The Recessional is your awesome and amazing exit as a newly married couple. You have completed your matrimony ceremony, unity ceremony, and anything else you wanted to add and now it is time to celebrate your union go party! The recessional music can be 1 – 2 songs. You will have a special song played or sung as you are announced to your guests and then happily walk down the aisle together. You can either continue with the same song as your bridal party exits or you can choose a different song for your bridal party. The size of the room and the number of guests will determine how many songs are needed for your recessional.
Wedding Music Checklist
And there you have it! You now know all the parts of your wedding ceremony that will need music. You can use this blog for reference to help in your planning, AND you can also download our "Wedding Music Checklist" so you can be sure not to miss a beat (no pun intended LOL!) If you have any questions, feel free to leave a comment or message me. Having a plan and a guide will help alleviate some of the stress when it comes to choosing music for your special day. I am here for you if you need me. Happy planning!
Warmly,
Deanna 🙂
Download your checklist HERE
Have a question? Leave a comment below or message me at hello@deannalgiron.com