Hello there, lovely readers! Today, I'm thrilled to introduce you to a true hidden gem nestled in Seminole County, Florida. Picture this: the glistening water, breathtaking sunsets, and a private space that's perfect for your special events. I had the pleasure of chatting with Judy, the passionate owner of 520 on the Water, and learning about the journey that led her to this remarkable event venue.
A Dream Unfolds: From Run-Down to Radiant
Judy's journey into the event industry is a tale of unexpected twists and turns. It all began when her husband, with sheer determination, decided to venture into the world of event hosting. Little did Judy know, their newly acquired venue was in dire need of renovation. Using their 41K savings, they poured their hearts into transforming the space. And so, in December of 2018, 520 on the Water was born, rising from the ashes to become a beacon of beauty and hospitality.
Navigating Challenges and Seizing Opportunities
Bringing 520 on the Water to life wasn't without its challenges. Regulations, repairs, and transformations were necessary as they changed the purpose of the venue. Judy recalled how the city played a role, grandfathering in wheelchair-accessible bathrooms—a nod to accessibility while preserving the charm of the venue.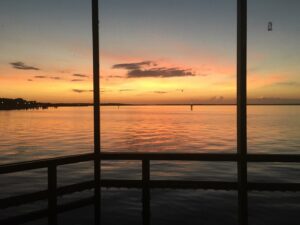 What Makes 520 on the Water Shine
So, what makes 520 on the Water a sought-after and unique venue? Imagine a space close to the water's edge, offering breathtaking views and private seclusion. With ample parking and the ability to accommodate various event types, including weddings, celebrations of life, and engagement parties, it's a versatile canvas ready to bring your dreams to life.
Capacity and Flexibility: Tailoring to Your Needs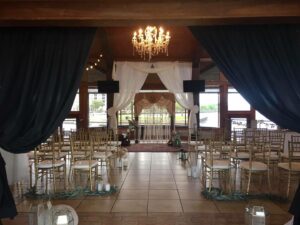 The venue's capacity varies based on the event's nature. For weddings, Judy prefers to keep things intimate, usually not exceeding 120 guests to ensure a comfortable dance floor. However, without the need for dancing space, the capacity can extend to around 140 guests. This flexibility ensures that each event can be tailored to the client's desires.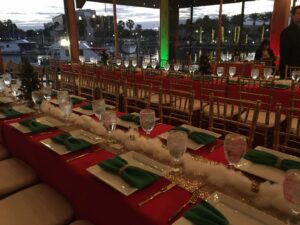 A Hub of Diversity and Options
One of the venue's shining qualities is its flexibility. Judy embraces diverse cuisines and themes, allowing clients to bring in their own catering and even fascinating elements like llamas or dogs! A hallmark of 520 on the Water is its collaborative spirit, working with clients to craft unforgettable experiences that mirror their unique personalities.
Planning and Booking: A Stress-Free Experience
As for prospective clients, Judy's approach is both practical and accommodating. To secure a date, a mere $500 deposit is required. With options ranging from eight to twelve hours, clients can customize their event durations according to their needs. Judy's transparent pricing and willingness to offer better deals as the event date approaches showcase her commitment to making the process stress-free. She will also assist you in planning an ideal layout for your event. Each client will have the opportunity to plan their event using this map so your vision can come to life.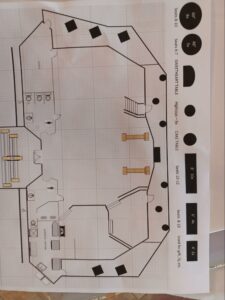 Embracing the Unexpected: Memorable Moments
Judy's journey has been adorned with unique and unforgettable events. From weddings where the bride and groom donned pirate attire to weddings with unexpected characters like skeletons, each event is a testament to the venue's readiness to embrace the unexpected. Judy's philosophy? Always be prepared for anything.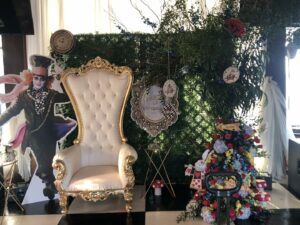 A Hidden Treasure on the Water
As our conversation drew to a close, Judy shared a little-known fact about 520 on the Water: Many visitors are surprised to discover that the venue is indeed right on the water's edge. The stunning views and abundant natural light that fill the space often leave guests in awe. Every area from the ceremony site outside to the indoor cocktail patio offer a beautiful backdrop to any event you plan on hosting.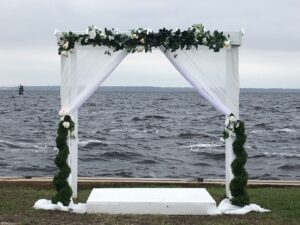 Connecting with 520 on the Water
If you're eager to experience the magic of 520 on the Water for yourself, Judy welcomes inquiries via email or phone call. Their Facebook and Instagram pages offer a glimpse into the beauty that awaits you. So whether it's a wedding, celebration of life, or a unique event of your own making, 520 on the Water stands ready to bring your vision to life in an unforgettable way.
Judy Myers
407-325-1376